Plessey is a UK-based leading developer of advanced optoelectronic technology solutions. With headquarters located in Plymouth, Plessey operates leading-edge 150mm and 200mm wafer processing facilities to undertake design, test and assembly of products, and a comprehensive suite of photonic characterisation and applications laboratories.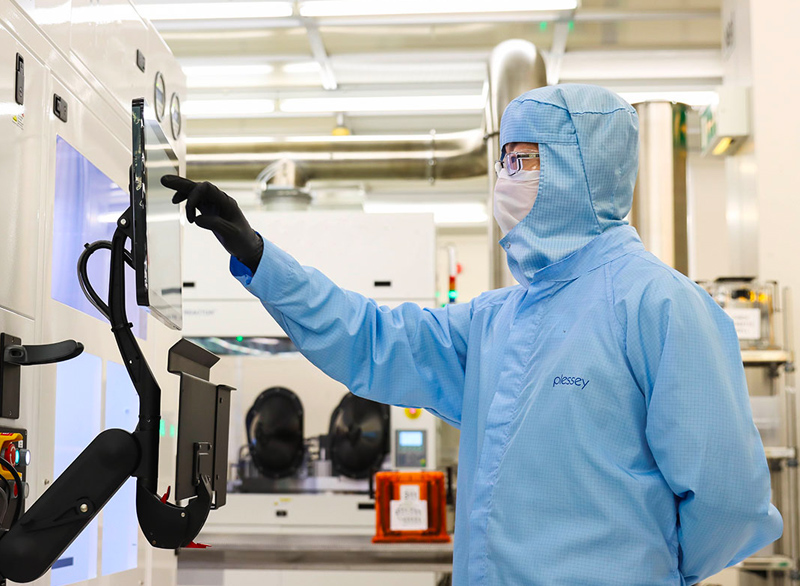 Plessey has a long-established history as an electronics, defence and telecommunications company, originating in 1917. In 2011, the business model diversified into the solid-state lighting, horticultural lighting and healthcare/ safety sensors sectors. In July 2017, the business pivoted to the research and development of market-disrupting microLEDs, using its already established proprietary monolithic gallium nitride on a substrate of silicon (GaN-on-Si) platform.
Plessey continues to be an award-winning provider of full-field emissive microLED displays that combine very high-density RGB pixel arrays with high-performance CMOS backplanes to produce very high-brightness, low-power and high-frame-rate image sources for head-mounted displays (HMDs), and augmented reality (AR) and virtual reality (VR) systems. It's unique and IP protected MOCVD based GaN-on-silicon (GaN-on-Si) monolithic microLED display technology is disrupting the display market globally and make possible a new generation of Augmented Reality (AR) devices and display solutions replacing incumbent LCD and OLED technologies.
For more info please visit the Plessey website.
Technologies and Capabilities
Plessey operates a leading-edge 150mm and 200mm wafer processing facilities to undertake design, test and assembly of products, and a comprehensive suite of photonic characterisation and applications laboratories, in Plymouth, Devon
Plessey's microLED technology is based upon its unique and IP protected MOCVD based GaN-on-Silicon (GaN-on-Si) substrate
GaN-on-Silicon LEDs have many advantages over conventional sapphire based LEDs, including more efficient pixels, better uniformity and a scalable manufacturing process
MicroLED technology is disrupting the display market globally and making possible a new generation of Augmented Reality (AR) devices and display solutions replacing incumbent LCD and OLED technologies
Plessey delivers innovative display solutions that can be easily integrated into the next generation of AR/MR head-mounted displays, wearables and other consumer electronic applications
Head-Mounted Displays (HMD's)
Augmented Reality (AR) Smart Glasses
Each 0.26" (sized on the diagonal) full HD 1080p resolution microLED display requires more than two million individual electrical bonds to connect the microLED pixels to the controlling backplane, to operate the display
Did you know, the human eye can only see particles that are larger than 50 microns. If you thought that was small, Plessey has proven pixel capabilities that are 15 x smaller